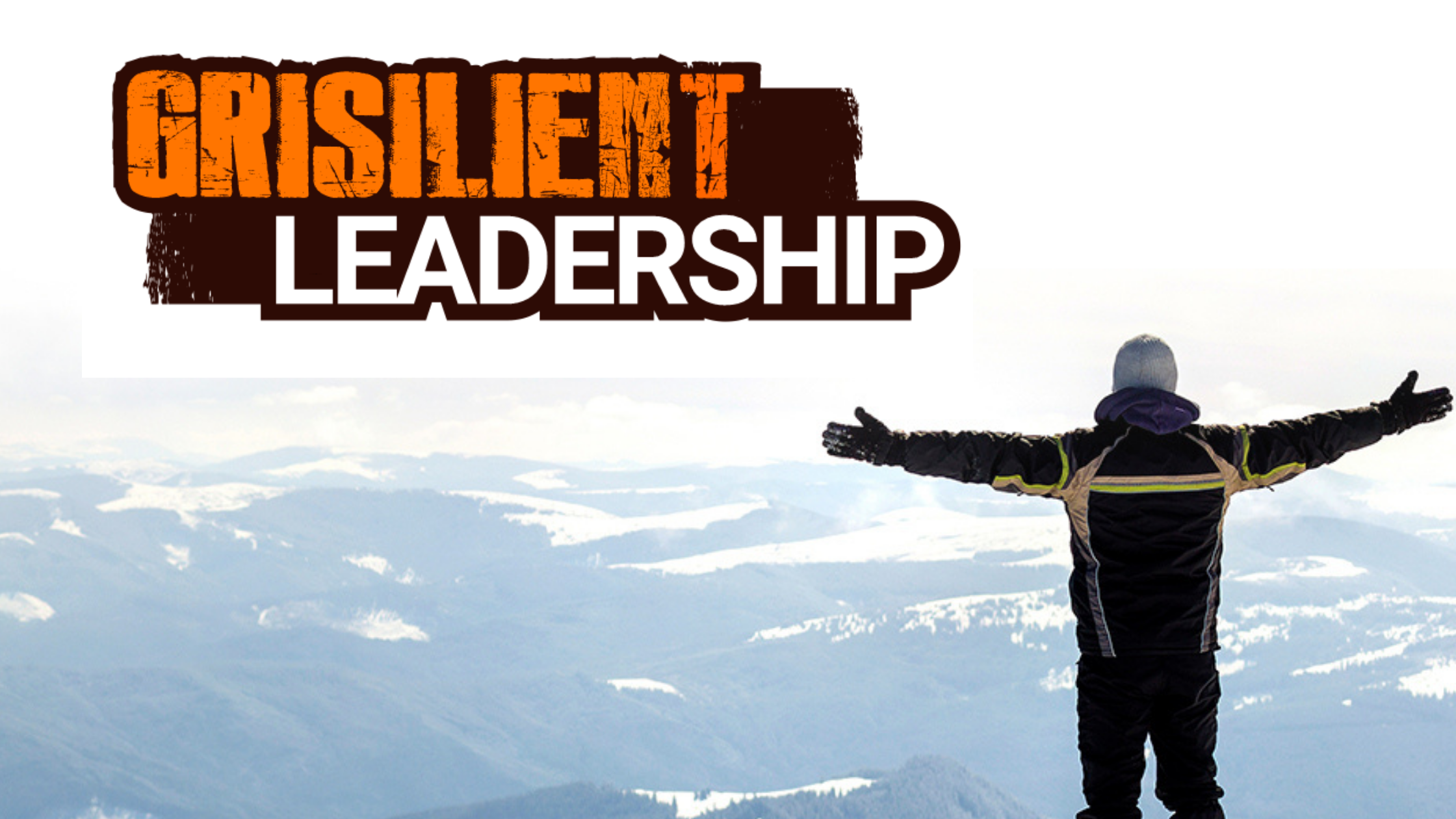 The Grisilient Mindset: Leading the Ascent Towards Success
You may be on your way to starting the journey towards a greater reset, but taking a step back and evaluating what's important is as necessary as moving forward. As a leader, you've definitely had it tough. Pressure may be at an all-time high due to the challenges brought about by the pandemic. We are urged to step up to better lead our teams, keep our organizations afloat, and deal with our own personal uncertainties. Leading through a crisis requires beyond just surviving - it is all about having the right mindset to take your leadership to the next level.
What is Mindset?
A very modest search online on what it takes to promote leadership in a person and you will undoubtedly (and quite often) come across the term "mindset." The problem with this term is that most people can't adequately define it. Sure, they can give you a nebulous description or some synonymous buzz words but they can't really articulate what they think "mindset" truly is.
For us and with the help of our partners at the Peak Learning Global Institute, we have a very clear definition and it comes in two parts: offense and defense.
Resilience (Defense)
The first half of mindset is what we call "resilience" (defense) or how we respond to life's tough stuff. It is what we do or how we react when the universe throws its slings and arrows our way. It is our hard-wired pattern of response to adversity or our Adversity Quotient (AQ); which is based on over 35 years of Peak Learning's scientific research. The Peak team has discovered that this is something that can be reliably measured and improved with the right intervention.
Grit (Offense)
The second half of mindset is "grit" (offense), our ability to set and relentlessly pursue our most worthy goals in the best and smartest ways. Grit is what drives us to be ever-better and to never give up on what matters most to us in life. It's something innate in all of us and like AQ, it is something we can reliably measure and improve. Together, these two halves form what we call the "grisilient" (resilience + grit) mindset and it is the most foundational ingredient for any successful leader.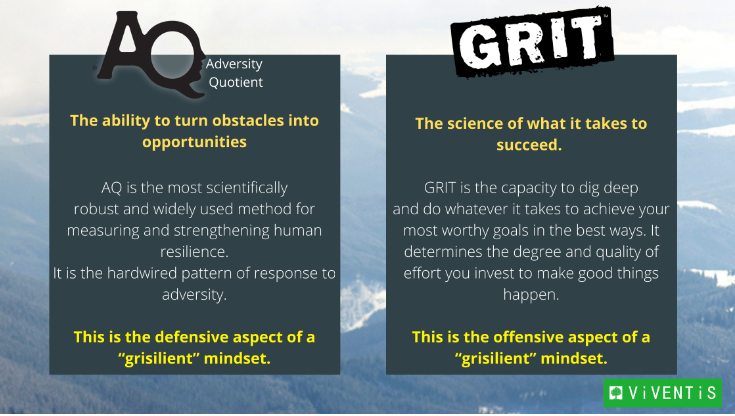 The Current Context
The impact of this unprecedented pandemic is testing "grisiilency" in ways it has never been before through adversities that are redefining what it means for leaders to guide their people and organizations. Having that "grisilient" mindset isn't easy when many aspects of the situation remain unclear. Questions like "What will happen to the organization?" or "What can we do when adversities seem to be beyond my control?" highlight the many uncertainties that all of us must grapple with.
The current situation calls for "grisilient" leaders who are capable of responding quickly when faced with roadblocks and making firm decisions while demonstrating genuine care to those around them. It is about stepping up to the challenge, stepping out of your comfort zone, and stepping through the doors of opportunity that exist.
At Viventis, "grisilience" is a key ingredient to fortify our core values and help us become better career consultants, innovators, and industry experts. Having a "grisilient" mindset enables us to break through the barriers - accomplishing goals, creating new opportunities, and pushing the boundaries with new perspectives. This has also allowed us to move forward and transform as a talent-first company, so we can surpass any disruption that may arise.
What's Needed in the Next Normal?
"Grisilience" is the bedrock of human endeavor. It is the foundation upon which all other leadership traits are built upon. Responding to adversity and attacking our most meaningful goals with integrity plus passion is the backbone that supports our attempts at success.
So how do we unleash our inner "grisiliency?" The first step is awareness; "What is my current level of AQ and GRIT and which aspects must I focus on improving first?" Then comes the strategic intervention on how to bolster these traits in the context of what I do as a leader. It's about our tried and tested AQ/GRIT tools in ways that are both practical and compelling.
We do not know what this "next normal" will bring and for most of us we simply lean on our optimism in hopes that things will be better. However, we can do more...a LOT more. Now is the time to rediscover our leadership DNA - who we are as leaders and what has made us this way. We need to look inward and tap our inner "grislience" so that we can become beacons of inspiration to those that we lead and influence.
If you are ready to make that commitment towards higher "grisilience" then join us on this ascent as we surface and share our honed methods on responding optimally to adversity and pursuing our most meaningful goals in the best ways possible. This way, you can thrive purposefully and achieve the peak of success.
Learn more about the "grisilient" mindset and how this can strengthen your leadership by joining our year-round webinar series, Breaking Barriers Through Grisilient Leadership. Save your seat now and discover how you can unleash the grisilient leader within you.
Click the link below to register and save your virtual seat!
This blog was co-authored by James Hargrove, an leading expert and trainer on the fundamentals of AQ and GRIT.
Related Articles
I vividly remember when I started Viventis - it was 2001, easing into the post-dot-com bubble era....
Leadership is not synonymous with a position or role. Just because you don't have a title, that...
In the ever-evolving landscape of the business world, the concept of leadership has undergone a...