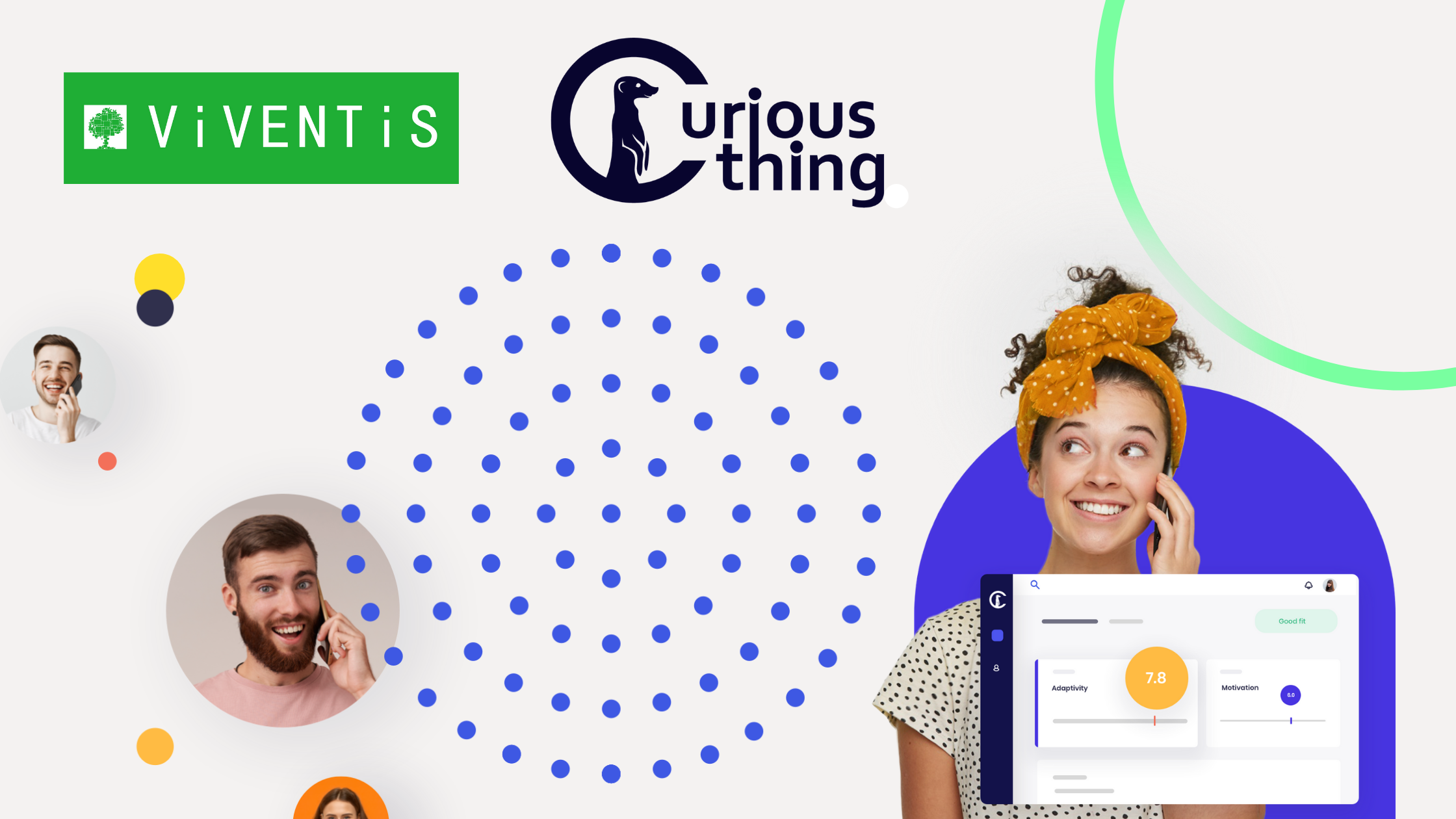 Viventis brings Curious Thing's Conversational AI in APAC
In line with our 20th anniversary this year, our Viventis Career Technology arm strengthens its partnership with Australian based tech start-up Curious Thing AI to address hiring challenges and mitigate talent waste by using Conversational AI in the recruitment and selection process.
Our Journey of Choosing the Best AI Recruitment Platform
The partnership started early last 2020 when a Viventis Recruitment and Strategy leader realized that to meet the SLA of the financial client's volume hiring requirement, through the RPO unit of Viventis, at speed, they needed an AI screening tool that can easily be deployed, screen a volume of candidates within a quicker turnaround time, and enable a shorthanded recruitment team to use data quickly to qualify candidates through the hiring process. Through word of mouth, that is where Curious Thing was introduced to Viventis and became the most perfect fit for that project.
From there, we have seen how Curious Thing's capabilities were able to automate the screening process using interviews powered by Conversational AI and Natural Language Processing.
70% of candidates completed the Curious Thing AI candidate assessments interview, 100% of these candidates attended on-site interviews, bringing up conversion significantly to 35%. Alas, in just six weeks, the team increased their hiring success rate from 5% to a record breaking 30%!
Read the full story on how Viventis Increased Candidate Conversion Rate through Curious Thing AI
Realizing the value of Curious Thing through the RPO project, Viventis had decided to promote Curious Thing to clients, and as one fruit from that endeavor, we were able to partner with an up and coming BPO in Metro Manila. Their challenge was, HR needed to hire the right technical persons with the english and soft skills necessary to meet the rigorous working standards in their organization. 53% passed the assessment and 30% were converted to hires!
After a year of the pandemic organizations already have embraced the paradigm shift in the HR industry, which concisely mentioned by Mr. Yu Ming Chin, founder of Viventis, said that virtual work resourcing, hiring risks, and employability will be huge factors to be heavily considered before hiring a candidate. Thus, our mission in Viventis' partnership with Curious Thing emphasizes the need of HR teams to adapt to a more efficient and effective remote recruitment process where minimal human intervention is involved in manual tasks and workflows, and candidate data insights can be measured at scale. This would enable recruiters to pivot to new skills and use data driven analytics to make decisions. This would unleash a whole new dimension of talent capabilities.
"It is a mission and vision of both Viventis and Curious Thing to enhance HR capabilities and processes where we can enable and unlock human potential through the use of AI technology as best practices in organizations."
- Yu Ming Chin, Executive Director, Viventis
Value of Curious Thing AI
Part of the features that set Curious Thing apart from other AI recruitment tools are:
Ability to screen a large volume of applicants (and at scale).
With Curious Thing, all candidates will be given a (fair) chance to go through the hiring process. On top of that, Curious Thing also has the ability to interview a large volume of candidates at scale which in return can reduce the average screening time spent by a recruiter.
6 billion resumes are sent and received every year around the world. Curious Thing's mission is to empower companies to go beyond resumes, and make 6 billion good and fair decisions.
Ability to help HR arrive at data-driven decisions
Curious Thing AI interviews create data-driven shortlists using candidate key behavior traits and english language proficiency that can be customized per role requirement. (In addition, personality insights are also captured during the AI interview).

Ability to enhance the candidate experience in a personal and conversational way
Their conversational AI, named Kristine, can connect well with candidates in a personal and natural way by giving them a good application experience. Kristine can instruct candidates, set expectations, ask for personal information, and preference, which will ease them into the interview.
Witness Kristine, Curious Thing's Voice Interviewer in Action:
Curious Thing's value is its ability to measure the necessary soft skills and personality to succeed in a post-pandemic virtual work environment. This is extremely useful especially for rapidly growing companies where they need to quickly pivot to the new HR trends and ensure that the candidate's they hire will be a competitive advantage in the organization. Hence, driving bottom-line growth in the organization.
Looking up into the horizon there are a lot of benefits that Curious Thing AI can bring to an organization beyond HR. More potential interactions between human and AI can happen within the space of conversational voice analytics, i.e., customer service, sales, market surveys, and much more!
"Human plus technology is the real value adding in today's environment no matter what you do and AI or technology should focus on automation and high volume needs while humans should focus on deep thinking and decision making."- Curious Thing
See Curious Thing in Action
To experience and understand Curious Thing, feel free to reach out to Viventis Career Technology experts and find out how this recruitment tool is game changing the human resource function.
Related Articles
AI in recruitment is not just an emerging trend but a new way of life in the talent attraction...
Recruitment automation and transformation seems to be developing as we go and the majority of HR...
How is your learning and development team navigating through the current realities in your...