Viventis Search Asia's take on Progressive Talent Attraction
Talent attraction is a proactive approach to recruitment.
It is a person's or an organization's capacity to pitch and make an enticing offer to someone who may or may not be seeking new or better job prospects. It entails understanding company requirements based on industry, delving into their organizational values, and presenting a compelling offer that is hard to resist; whether it be compensation, benefits, or the overall culture they will get to experience in the company they will work for.
Recruitment has changed since the COVID-19 pandemic, relying on traditional approaches such as phone interviews and in-person meetings. To resume operations, we transitioned from analog practices to various innovative and progressive strategies to accommodate these changes as seamlessly as possible.
Viventis Talent Attraction is tailored to meet clients' needs, from executive hiring to niche candidates, and is particularly adaptable to recruitment trends, techniques, and technology.
Industry Knowledge Blended with Cutting Edge Recruitment Technology
Talented teams make successful organizations. Nevertheless, talented individuals do not often knock on your door, which is why proactively seeking and acquiring them is essential.
Our career experts always make an effort to stay up to date with the latest trends across all industries in order to accommodate candidates from the executive level all the way to the entry-level to ensure that both our clients and candidates are up to date with the latest jobs on demand and that we place them in their rightful field of expertise.
LinkedIn Recruiter premium accounts and our recently launched talent community are also utilized by the company for a quicker and simpler candidate and client sourcing and marketing across all industries.
The organization intends to keep the momentum going by continuing to deliver exceptional talent acquisition services for any hiring demand such as executive search, recruitment process outsourcing, volume hiring, staff augmentation, and their latest service, campus recruitment which aims to provide end-to-end campus recruiting services from project management, strategy, and events execution to assist organizations in navigating the university landscape.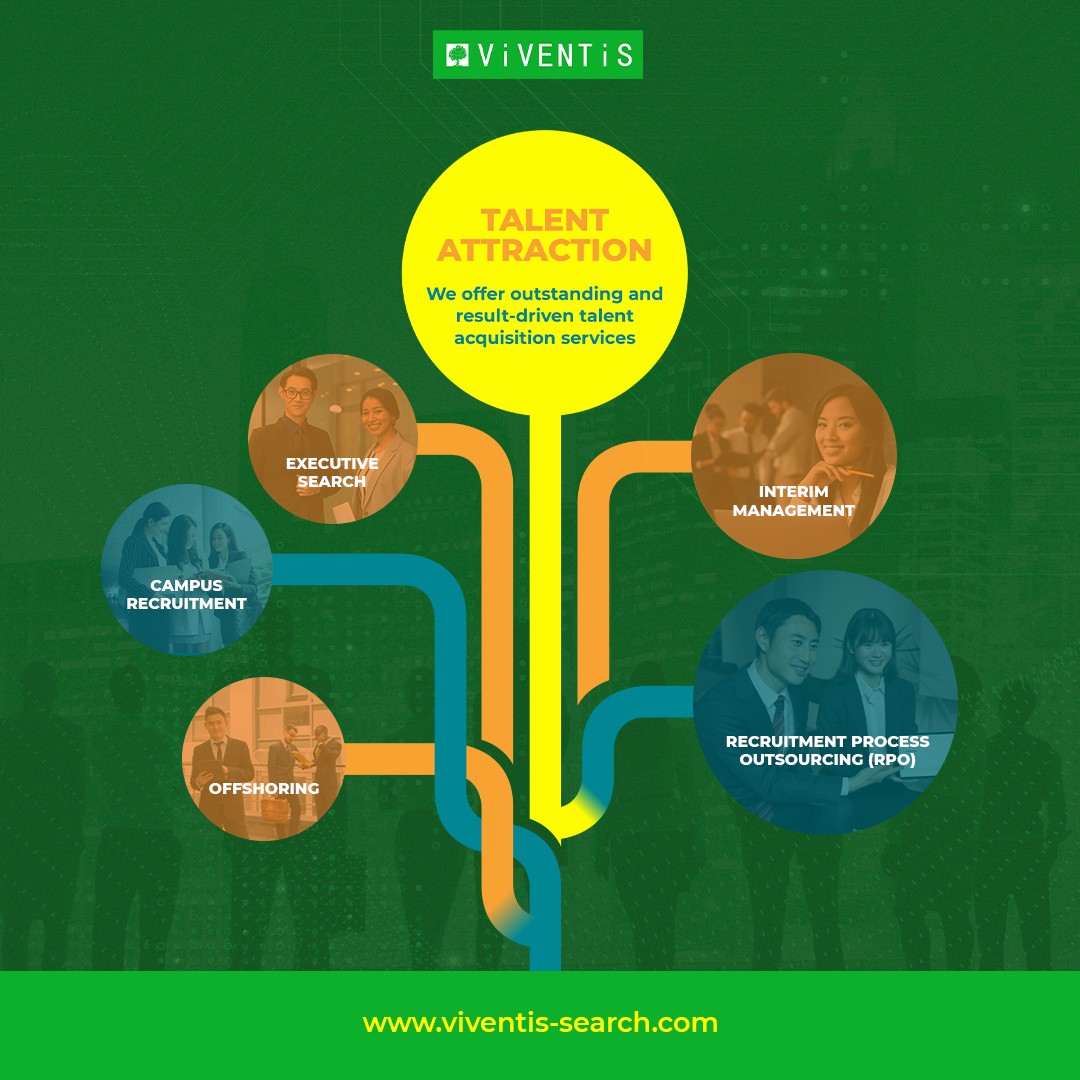 Read about how we helped R1 RCM set up in the Philippines at the height of the pandemic
Smart Hiring through the use of Technology
Technology has transformed business processes, consumer habits, and consumer expectations, making it essential and crucial in both personal and professional life; even more so after the global pandemic happened.
And for an organization that has people as its lifeline both internally and externally, advanced technology is basically one of Viventis' most reliable business partners.
We utilize different and reliable HR technology platforms, such as LiveHire, Talkpush, Harver, and Bryq, to make the recruiters' operations faster, smarter, and more efficient, all while accomplishing our clients' hiring needs. We also make use of LinkedIn and our very own Talent Community to gather qualified talents and provide career opportunities for our talent pool and/or any job seekers that might stumble on our platforms.
Read about How Technology has Accelerated Progress at Work
A People-Centric Approach to Talent Attraction
Cultivating a people-centric culture keeps employees engaged and motivated. The more engaged employees are, the lower the turnover rates and absenteeism, all of which contribute to higher productivity and, of course, higher profit.
To innovate and achieve its purpose of transforming careers, Viventis moved from a transactional recruitment process to a more people-centric approach, allowing organizations to develop their talent through training platforms and learning programs. The organization believes that talent pooling is not the only service a human capital organization can provide.
The organization also provides a variety of learning and development programs as well as assessment tools that are quite useful in making critical hiring decisions. Company leaders are also training career experts on how to successfully recruit talent and clients and turn them into effective and productive "future talent leaders."
Viventis believes that talent development and the integration of advanced technology are beneficial to all industries, which is why they developed Talent Development and Career Technology services.
The organization's people-centric approach to talent attraction has been successful in meeting the needs of both clients and candidates, especially during the pandemic.
Nonetheless, pandemic or no pandemic, Viventis has always emphasized and been good at building good relationships with both candidates and clients to ensure that their career objectives and ambitions are very much aligned with the organization.
Following 21 years of excellence, Viventis Search Asia has placed over 10,000 candidates in reputable industries and has a client base of over 1,500. Moreover, Viventis was recently recognized and awarded as the Most Innovative Company of the Year at the Asia Leaders Awards 2022. By concentrating on offering comprehensive and innovative human resource solutions, the organization has demonstrated its ability to offer services that go beyond executive search and recruitment.
Our career experts and advisors will collaborate with you throughout the process to cultivate high-quality candidates who best meet the goals of your organization.
Find out more about our innovative solutions by visiting our website at www.viventis-search.com or connecting with us on social media!
Related Articles
Campus recruitment refers to the process of locating, interacting with, and employing interns and...
Did you know that the use of Natural Language Processing or most commonly known as NLP i s...
Companies are in competition, not just for clients but for competitive talents. Recruiting for...