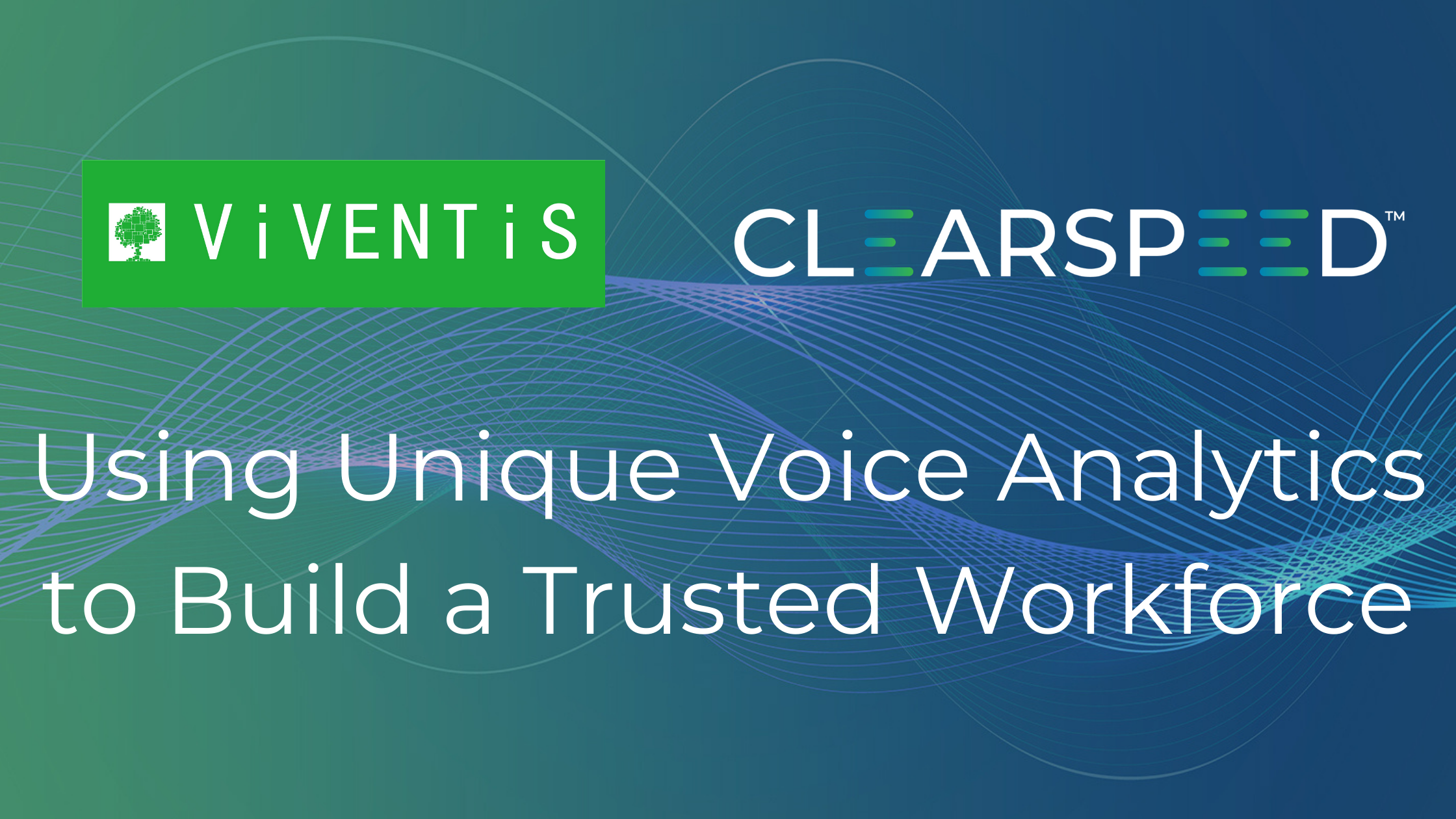 Using Unique Voice Analytics to Build a Trusted Workforce
The world has changed drastically in the past few months. We've seen a consistent rise in unemployment which affected the livelihood of millions of workers across the globe. There has also been a great disconnect between human interaction which brought down a collapse in communities. In this ever changing uncertainty, what's next for the workforce of the future?
Last November 17, we gathered experts to discuss the current state of the digital hiring landscape and how advanced technology like voice analytics can help build, maintain, and scale a trusted workforce. How important is building trust and honesty in shaping the future of organizations? Before talking about building a trusted workforce, we need to have a deep understanding of the forces and trends shaping the future of work and where technology plays a huge role in helping leaders gain the right perspective, preparation, and foundation in mitigating risk so they can focus on their most valuable asset - their people.
Decoding the future of hiring means having an understanding of risk and integrity in the workforce
The session started with human capital expert and Viventis Executive Director Yu Ming Chin presenting the forces and trends shaping the future of work and having a clear perspective of technological advancements over the years, that can help leaders and human resources professionals be more open and confident when it comes to integrating AI enabled technologies in their processes - from hiring to developing the right people in the organization.
As a human capital expert for over three decades, he pointed out that the main priority of leaders today has shifted from profit to people. Decoding the future of the workforce also means understanding the concept of risk and the need for organizations to be designed for resilience, changing leadership strategies, and enabling the right competencies to lead in this difficult time. He also mentioned that in this crisis, trust, transparency, and openness become the vital leverage to enable effective people management.
"In decoding the future of hiring, we really need to probe and understand the aspect of risk. By decoding the risk, you can also ensure the right code for the future in terms of people management and hiring."
Chin also presented the evolution of how people are being assessed in the organization and how technology can be used to mitigate risk.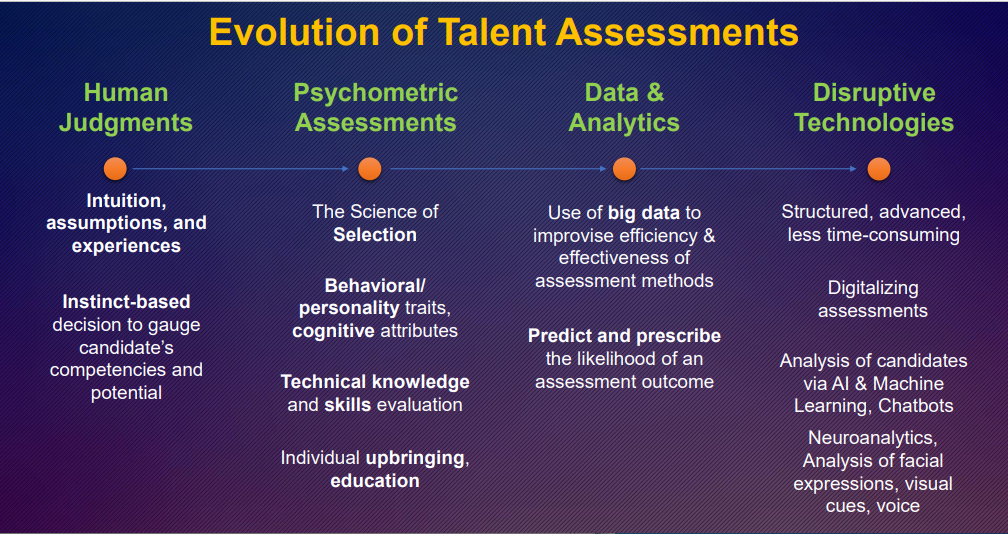 He ended by saying that building a trusted workforce goes beyond the traditional capabilities in hiring and there is a need for advanced technology that can mitigate risk at the early stage of the recruiting process at scale and at speed.
Mitigating risk through unique voice analytics
The hiring process has definitely changed over the years and so has technology. However, there are still some blind spots such as resume fraud, misconduct, undisclosed data, and other similar instances that are often overlooked at the early to middle stage of the process. Jules Ehrilich, Clearspeed's Chief Product Officer walked us through the uniqueness of their voice analytics platform and how it can give hiring professionals a likely risk alert in less than 10 minutes.
Clearspeed's technology is unique in the world since it goes beyond what background checks can provide. Their voice analytics technology gives a very quick and accurate assessment if an employee or candidate poses a potential risk through a series of yes or no questions which can be done in any language. Now before we get confused between voice analytics and lie detectors, Ehrlich clarified that their technology is different from a lie detector. What Clearspeed's technology measures are the features inside a person's voice and their reaction to the question. This revolutionary way of identifying risk gives hiring professionals a higher chance of getting a better candidate pool. At the same time, their vetting process can help protect organizations from a bad hire.
The results that Clearspeed provides can empower organizations in a way that was never possible before. Ehrlich shared that their revolutionary technology can help change the quality and longevity of assessing and screening candidates. Beyond hiring, their technology can also be used to provide a quick and accurate assessment of how people's risk can change once they are inside the organization.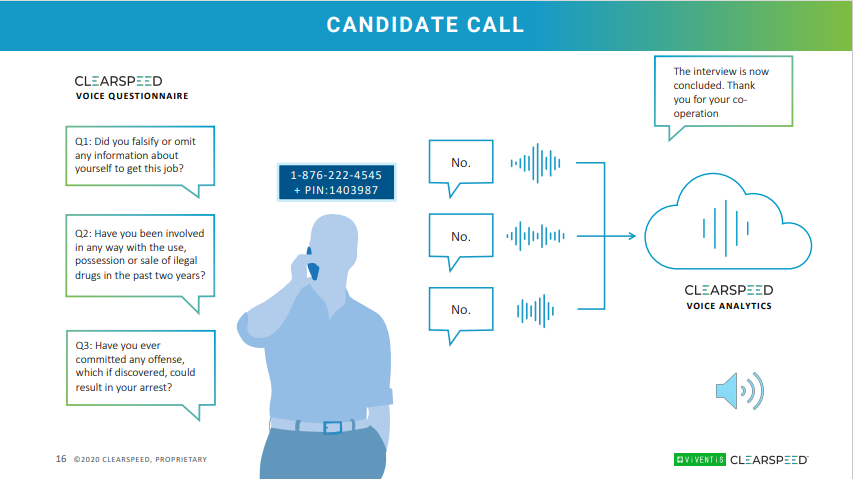 How so? Gene Yu, the Co-Founder and CEO of Blackpanda shared his phenomenal experience with using the technology to investigate employees involved in fuel-related fraud in one of the largest energy companies in the Philippines.
Solving an insider threat investigation with Clearspeed
Fuel-related fraud has been a prevalent issue in the Philippines for many years and this was experienced by one of Blackpanda's clients in 2016. The situation, as Gene Yu described, was complex because they were looking at 4,000 employees that could potentially be involved in the fuel thieving syndicate.
Through their partnership with Clearspeed, from 4,000 employees, they are able to narrow down the investigation to 400 people in a span of 3 days. This was made possible through answering a yes or no question in Tagalog to find out which employees were stealing fuel from the company. From the 400, 21 employees were marked as high threat. Clearspeed's ability to quickly accelerate the investigation efficiently and precisely brought about enough evidence for the company to take the necessary actions needed to protect the company from further threats.
In summary, the points presented by our two speakers and Gene Yu's experience with using the technology highlighted that voice analytics can go beyond solving hiring risk - it can also be applied in other cases such as insider threats, cybersecurity, and other issues that could prevent any organization from building a trusted workforce.
Want to know more about how Clearspeed is used for hiring? Here's an additional case study!
Related Articles
As with any industry, the world of recruiting is constantly evolving and keeping up with change can...
We are in the age of digital transformation, and the pandemic along with effects intensified the...
The origin of Artificial Intelligence can be dated back in 1943 when Scientist William McCulloch...