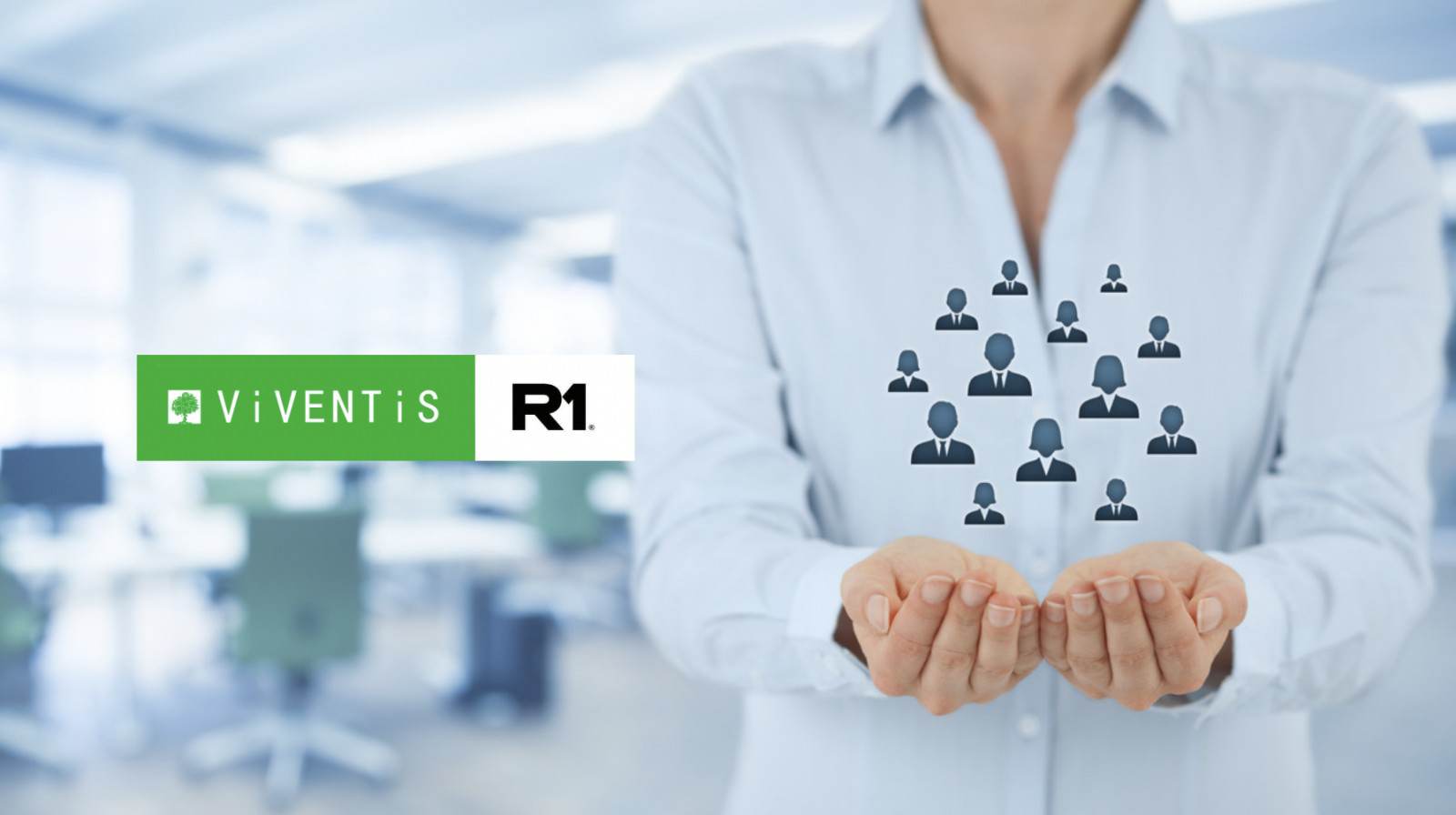 Accelerating R1 RCM Philippines' BPO growth through offshoring and outsourcing
R1 RCM is a pioneer in transforming healthcare providers' patient experiences and financial performance. Its presence in the US demonstrates a tried-and-true business strategy that swiftly produces sustainable revenue and cash flow benefits for US hospitals and health systems while lowering operating costs and improving patient experience.
R1 RCM's Decision to Expand their Business in the Philippines
After establishing their presence and influence in the American and Indian markets, R1 RCM decided to expand their business operations through offshoring and outsourcing in Southeast Asia, particularly in the Philippines as it is globally renowned as one of the most efficient call-center capitals in the world. Compared to other regions, Filipinos have that strong sense of 'malasakit', and it has served as their edge in the customer service industry, and so it was only natural for the organization to grab that golden opportunity if growth and abundance are their end goal.
The Opportunity: Using Offshoring and Recruitment Process Outsourcing Services to grow R1 RCM's brand in the Philippines
The first step is often the most difficult, and R1 RCM, a proud and successful company, also had their fair share of challenges and setbacks when they first started in the Philippines. One, they are a brand-new company that started from the ground up. From the technical aspects of registering in order to commence operations to locating the best office location—all the way down to finding and hiring the right people. And because they're new and just getting started, finding the ideal workforce has been tricky, necessitating a tedious and thorough recruiting procedure.
They initially started looking at voice capabilities in the Philippines, but eventually they also started looking at clinical opportunities because they saw a lot of potential there. According to Natalie Yatco, R1 RCM Philippines' Vice President Operations, the country has a natural affinity for any US process—in fact, in terms of skill and capability demands, it is practically on the same wavelength as the US. To put it simply, the two countries have extremely good synergy, so much so that they can work together seamlessly, and although R1 RCM Philippines started from scratch when they first arrived here in the country, it's not like they expanded to a completely foreign, barren land.
As many people already know, the Philippines is generally renowned as one of the world's largest contact center capitals, and Filipinos are known as some of the most efficient and talented workers, so rather than concentrating on the obstacles, the leadership team of R1 RCM Philippines opted to focus on the opportunities and possibilities. To add, the growth of offshoring and outsourcing demands in the country has been increasing in the past years which made it a good decision for R1 RCM to expand.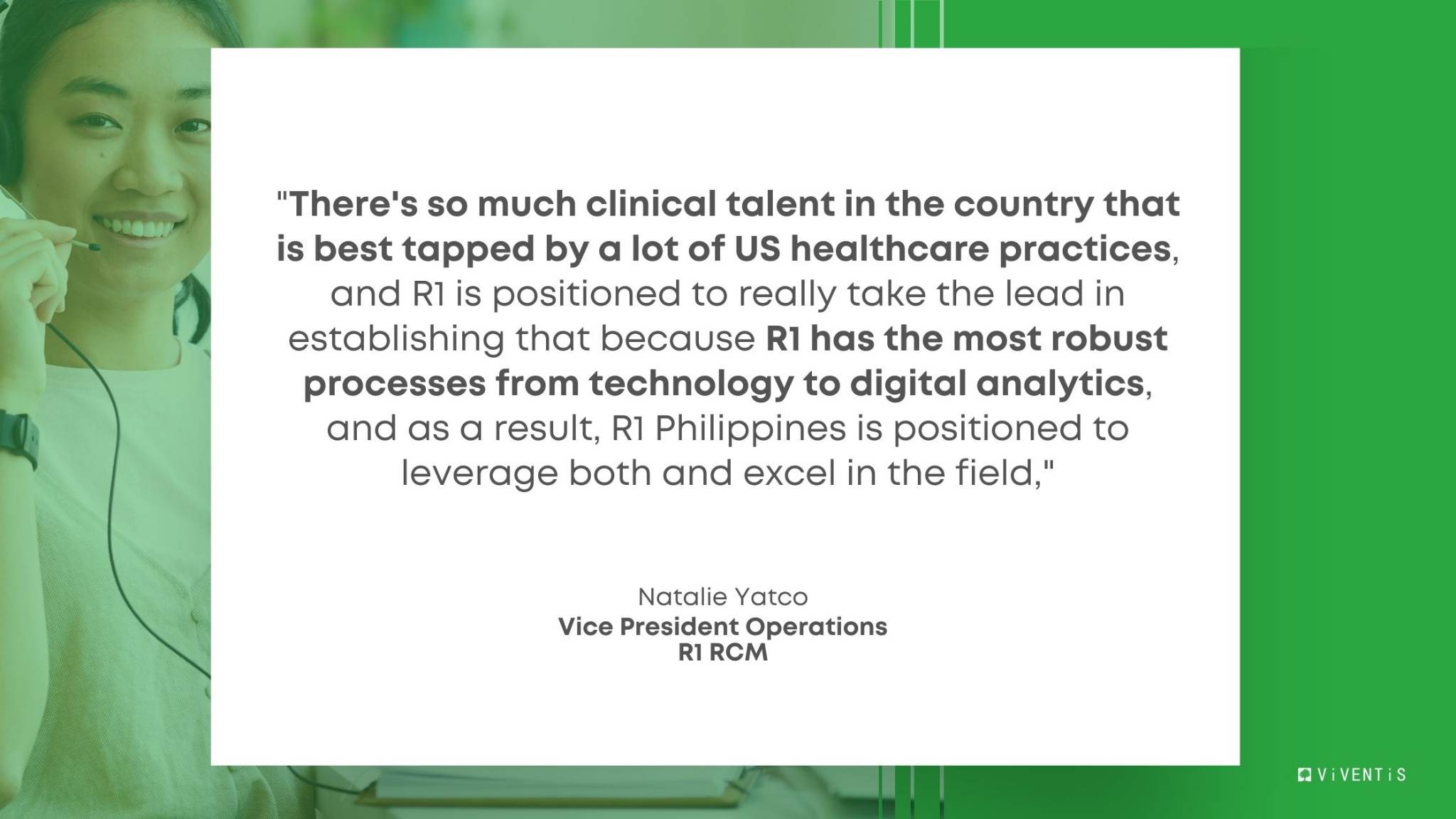 The Successful Collaboration between R1 RCM Philippines and Viventis Search Asia
Employees are believed and proven to be one of the greatest, if not the best, assets a company can have. They are one of the key pillars that keep an organization afloat and distinguish it from the competition, which is why R1 RCM Philippines takes great care in selecting their workforce. But it would take a village to identify, let alone employ and train, the right individuals for a corporation as large as theirs.
As a result, they sought the best human resource partner that would provide the holistic recruitment process outsourcing (RPO) solutions along with recruitment marketing and onboarding services to meet their huge demand for Customer Service Experts while growing their employer brand in the country. Aside from hiring the right individuals, intensive and substantial training is also required since their first wave of employees will eventually be the team leaders who will subsequently nurture and mentor newcomers.
Thus, the collaboration between R1 RCM and Viventis Search Asia began in January 2022, shortly after R1's debut in the Philippines.
Known for its expertise in human capital solutions and wide network of candidates across Asia Pacific, R1's leadership team knew they had to tap Viventis to attract the high caliber talent they needed. Despite being in the middle of the pandemic, R1 and Viventis both took on the challenge to get ahead of other BPO companies and provide new job opportunities and skills training for Filipinos.
R1 RCM Philippines needed help in staffing and recruiting, as they are in need of the right group of people who would eventually become the team leaders who would care for and mentor the incoming newcomers. So, in order to attract the right talent in volumes, Viventis took a strategic approach to match the goals of R1 RCM Philippines and the expectations of candidates.
The Challenge: Getting ahead of the Competition for Customer Service Experts
Since the Philippines is regarded as one of the most renowned call center capitals in the world, there is a lot of potential and opportunity for both organizations and aspiring applicants, but that very fact also indicates that the competition among call center companies—both new and pioneers—is very fierce. If we were to put ourselves in the shoes of a candidate, we would choose a company that has been in the game for a long time and has a multitude of achievements to back up their reputation and competency as an organization and an employer.
R1 RCM Philippines didn't have the manpower or connections, and that posed as one of their struggles. Aside from their lack of resources, they also have a very high standard to uphold in terms of recruiting the right people and the way they should conduct day-to-day business in general. It didn't help that they started during the peak of the pandemic. Roads were often closed due to nationwide lockdowns, and most, if not all, people stayed at home to protect themselves from the deadly virus because vaccinations were not available at the time.
Thus, in addition to the expected hurdles, they had to deal with circumstances that were beyond their control such as attracting people to shift jobs in the middle of uncertainty. Nonetheless, despite the adversities they had to cross, they chose to view their challenges as opportunities and approached them with a positive mindset.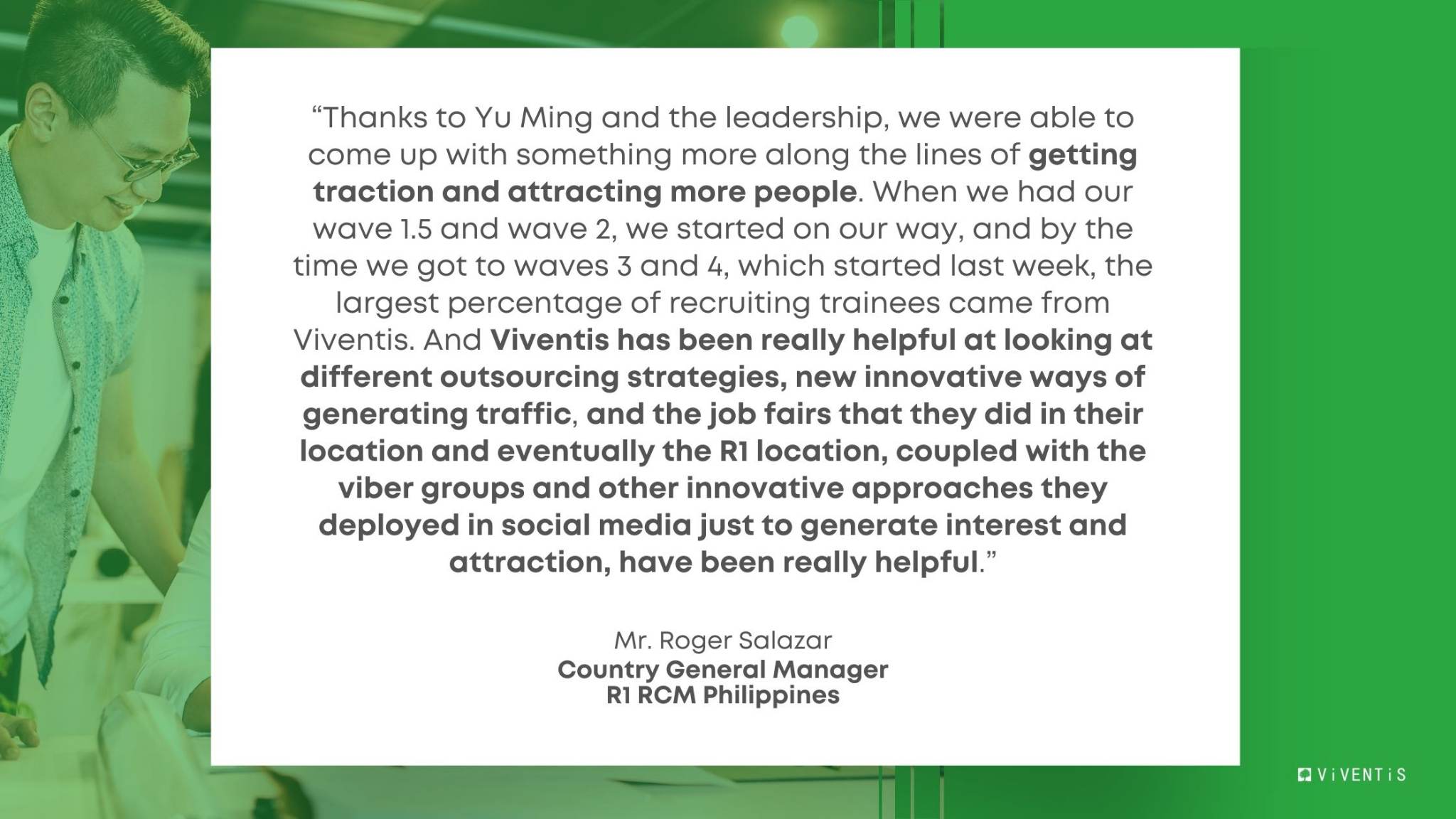 Action Plan: Leveraging on innovative recruitment strategies and employer branding to attract the best talent
Given that R1 RCM was competing amongst larger BPO companies and the fierce competition for talent, Viventis made sure to integrate a holistic and innovative approach to its talent attraction strategy which required a more collaborative and agile process. Throughout the relationship, both parties made certain that there was clear communication between organizations right from the consulting stage down to the interim management phase, in which employee engagement, payroll, and performance management are the key focuses.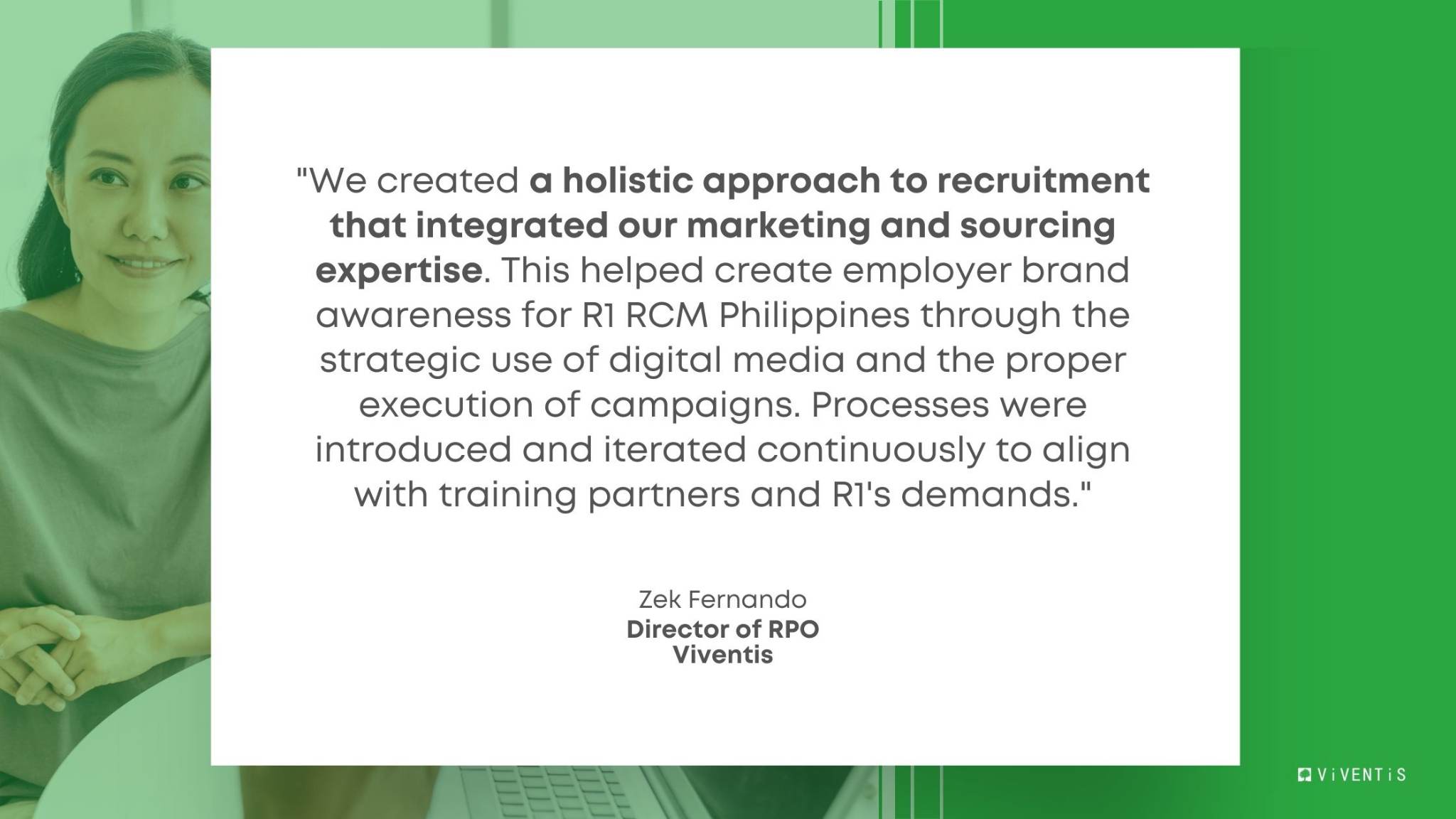 Zek Fernando, Viventis Search Asia's Director of RPO, recalled how he and the entire Marketing, RPO and Interim Department were in charge of leading the partnership between the two great organizations.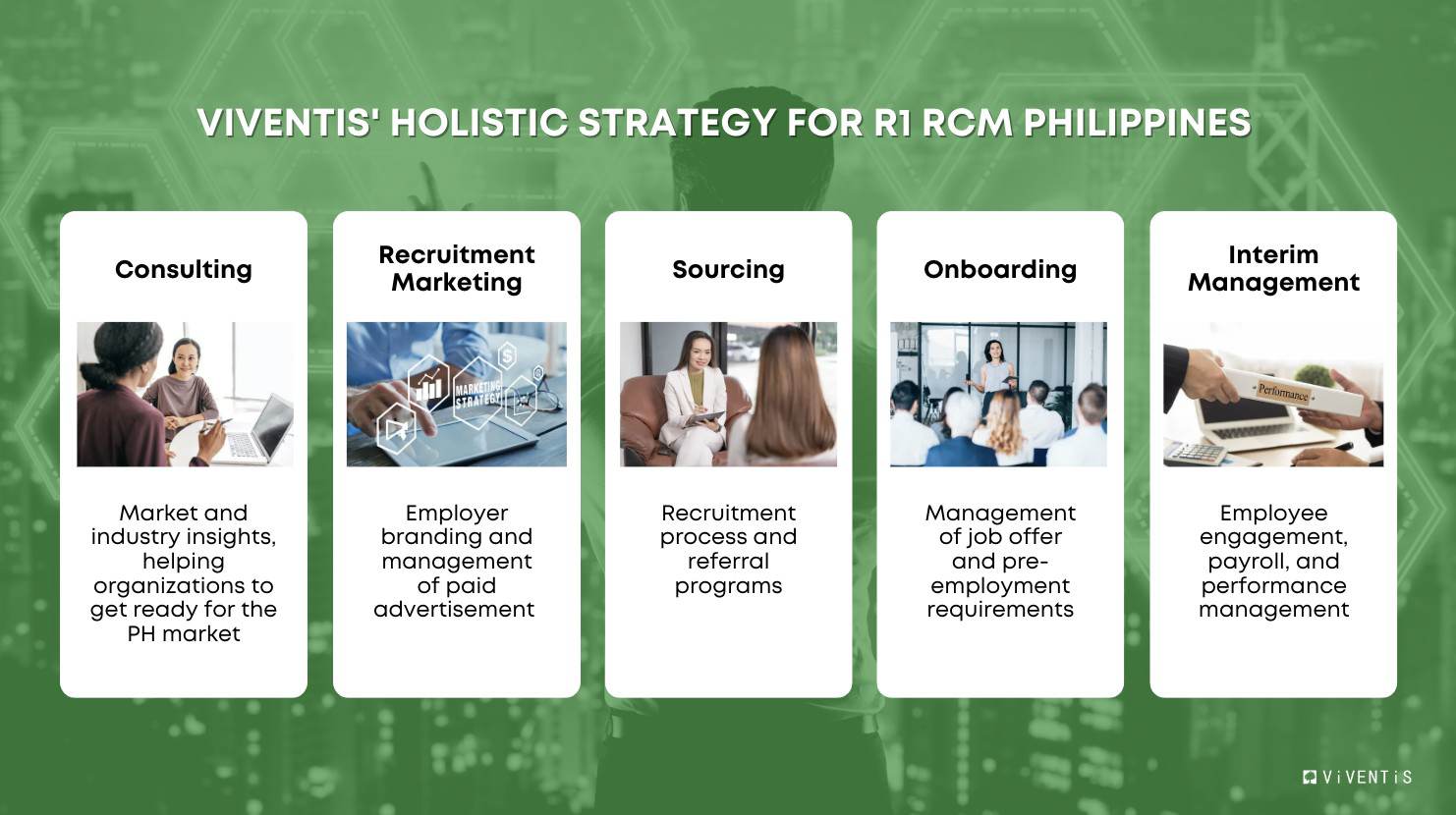 They also saw the value of employee engagement and included this in their efforts to further enhance R1's employer brand. Candidate engagement was carefully planned from sourcing to day one onboarding to ensure a delightful and meaningful applicant-to-employee journey. Stakeholder management and strong leadership collaboration across partners and R1 allowed for meaningful discussions to help R1 gain ground in the Philippines.
Aside from HR solutions, they leveraged on recruitment marketing and employer branding initiatives online to spearhead R1 RCM's brand to get the best Customer Service Experts in the country.
In order to make their campaign more flexible and accessible to all applicants, they also conducted virtual hiring practices for those who were unable to visit the career center to process their job applications.

Lastly, as soon as the pool of customer service experts grew, the team launched its Viber e-community to utilize the power of employee referrals and keep employees engaged starting from their pre-onboarding process. It was also an opportunity for employees to get to know more about the company and its culture even before their first day.
The Results
All of this resulted in a strong partnership between Viventis and R1 RCM Philippines, which helped in the creation of over 500 new jobs over the course of less than a year's worth of collaborative efforts. Even with the pandemic still presenting itself as a handicap to every business sector in the world, or in this case, here in the Philippines, Viventis Search Asia not only prevailed in accelerating R1 RCM Philippines' BPO growth, but they also succeeded in helping aspiring candidates start their most promising careers yet.
The opportunity for businesses to expand in the Philippines continues to grow through outsourcing and offshoring
As they enter their 21st year as one of the country's top Human Capital Solutions companies, Viventis Search Asia has much more to give and demonstrate as they have many plans for the succeeding years, such as their newly launched Viventis Talent Community, where aspiring professionals can explore and discover job opportunities that match their skills while also strengthening their relationships with recruitment companies, which will certainly help them in the long haul.
Finally, in keeping with their reputation as one of the leading Human Resource Management and Solutions companies in the country, Viventis intends to help and support organizations looking to expand in the Philippines by assisting them in finding and recruiting the ideal group of people who will eventually be the face of their company by continuing to utilize their result-driven workforce management solutions such as recruitment process outsourcing and interim management, and stellar career technology platforms that will enable enterprises to not only combat business challenges but also discover more opportunities and achieve their most desired long-term and short-term goals.
And for businesses wishing to expand their operations in the Philippines, Viventis has developed a strategy that combines offshoring and outsourcing to get them up to speed or make the process easier for them.
Looking to partner with us for your outsourcing or offshoring needs? Get in touch with us now!

Tags:
Talent Development
,
Transforming Careers
,
Human Capital Solutions
,
Talent Attraction
,
Viventis Industry Experts
,
Talent Acquisition
,
Recruitment Process Outsourcing
,
RPO
,
Outsourcing
,
Talent Training
,
Career Technology
,
Offshoring
Related Articles
Talent attraction is a proactive approach to recruitment. It is a person's or an organization's...
November 22, 2022, Manila - Viventis Search Asia is awarded the Most Innovative Company of the Year...
Why outsource Executive Search